The only fat-burning, anti-cellulite & anti-stretch mark treatment you'll ever need.
*Clinically backed ingredients
*Jaw-dropping results
*Easy to use
*FREE shipping to US
ADD TO CART NOW
We know you're working hard
Hitting the gym. Getting the protein in. Cutting calories. You're doing everything right, yet these annoying pockets of fat just won't go away. And you're not alone, believe me. Even the most genetically gifted athletes struggle with trouble spots. Some fat is too stubborn to go away no matter how hard you try.


Until now.
Make your gym trip more productive and reach your ideal shape with Shrink Toning Lotion
The world's most advanced skin tightening cream

Packed with powerful, scientifically proven ingredients, Shrink accelerates fat loss in the areas that seem the most difficult burn-off. With less than 5 min a day, you too can enjoy smoother skin and a toned body without surgery or a heavy price tag.

No Surgery

Tone Your Waist

Tighten Your Skin

Rip Your Arms
How it works
Instead of storing more fat, our exclusive formula converts even the most stubborn fat into usable energy. The unique combination of proven ingredients will get you the most ripped, lean, shredded body you've ever had.
FIND OUT MORE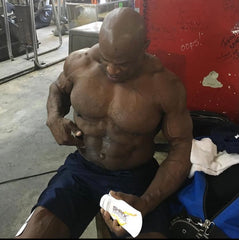 "I can honestly tell you that I
have been using this product for years"
- Ronnie Coleman, Mr. Olympia 8
The most effective, scientifically-backed ingredients for that toned, firm body
After careful research, our experts developed the most up-to-date cutting formula for effective fat burning - the CoAxel. It combines three active substances - Caffeine, Coenzyme A, and L-Carnitine. Our skin tightening recipe is simple, but it packs a powerful punch.

Deeper Skin Penetration
The greatest challenge of any topical solution is penetrating all three layers of the skin and proper absorption. We have designed Shrink Action to do just that.

Beyond Thermogenic Supplements
Unlike many other fat burners, Shrink Action is 100% effective and will NEVER build a tolerance to its ingredients. This means you can safely use it for as long as you need to.

Heat-Activated
Time to break a sweat! Enhance your fat loss results by increasing swear, blood circulation, and calorie burn with Shrink.

Quick-Absorbing Formula
The lightweight texture absorbs quickly into the skin so you can get back to your workout quickly - without leaving a trail of residue behind.

5.0 out of 5 stars 

It works
If your diet and exercise program are on point, this stuff is magic. The results are far better than any of the dozens of fat burners I have tried. I do fasted state cardio upon waking and lift weights 5 days per week for a total of 10 workouts per 7 days. I apply this before each workout and after 3 weeks the results are very noticeable.

Finding Success, Reviewed in the United States on February 22, 2018
5.0 out of 5 stars 

I'm buying more. It's official.
Only thing I use consistently that actually produces results. I put this on before a workout or before cleaning and let it do the rest. I have pregnancy scars and they are BASICALLY GONE they lightened and tightened i recommend this to anyone!

Natalie, Reviewed in the United States on February 26, 2020
5.0 out of 5 stars 
Product works
This is a great product and I've used it before, it really does work if you use it how it's supposed to be used and for a long period of time. You will notice the change in about 1month of continue use. I recommend this product.

Jose Dominguez, Reviewed in the United States on August 17, 2021
5.0 out of 5 stars 

Get this for immediate results with neoprene wrap.
This stuff works! I smear it on my belly, sides and low back. Then I wrap my neoprene wrap around midsection for an hour Or more doing chores or walking. The Immediate results are a Great start to a healthy eating, add exercise, minimize portions diet.

Diane Moore, Reviewed in the United States on January 23, 2020
5.0 out of 5 stars 

It really does work.
Works for me. I find when I use it and train it's making a huge difference. It's it's good enough for pro bodybuilders. It's gonna work.

Beccy Walsh, Reviewed in the United Kingdom on October 24, 2018
5.0 out of 5 stars 

A winner

A total win!!! Used a little!
Started boot camp, within 10 minutes I felt the water in my waist trainer! After 45 minutes water poured out, no irritated skin, no redness. All good, I'm totally satisfied.

Richelle Smith-Wilson, Reviewed in the United States on July 3, 2021
5.0 out of 5 stars 

Quick & Effective
I wasn't sure what to expect when I ordered Shrink toning lotion, but it sounded promising so I thought I'd give it a try. I apply it daily, before I go on my work out, and am already seeing results only a little over a week later. It tones and tightens the skin where applied (be sure to massage until thoroughly absorbed into skin). It is great for getting rid of stubborn belly fat, and even does wonders for cellulite. I have been very pleasantly surprised with how quickly and effectively this toning lotion is working.. I can tell the difference not only in how my skin feels but even how it looks. I will definitely be ordering more before I run out, and would recommend to anyone looking for a little boost in toning up.

Molly, Reviewed in the United States on May 31, 2013
5.0 out of 5 stars 

This product delivers results!
I've been using this
lotion for about 3 yrs now and it has helped tremendously. I've had 4 kiddos resulting with stretch marks and some loose skin. This has helped in that it has helped the skin bounce back quite a bit. I also exercise 6 days a week and compete in the bodybuilding industry. This was just an addition to assist with the appearance of tummy area.

BBGTx0511, Reviewed in the United States on July 7, 2014
They're no longer worrying about their body... Why are you?
Take your body to the next level with Shrink
ADD TO CART NOW
Want faster results?
Boost your weight loss progress, build muscle and tone your body faster with the game-changing combination of Shrink toning lotion + Waist trainer + Resistance bands.